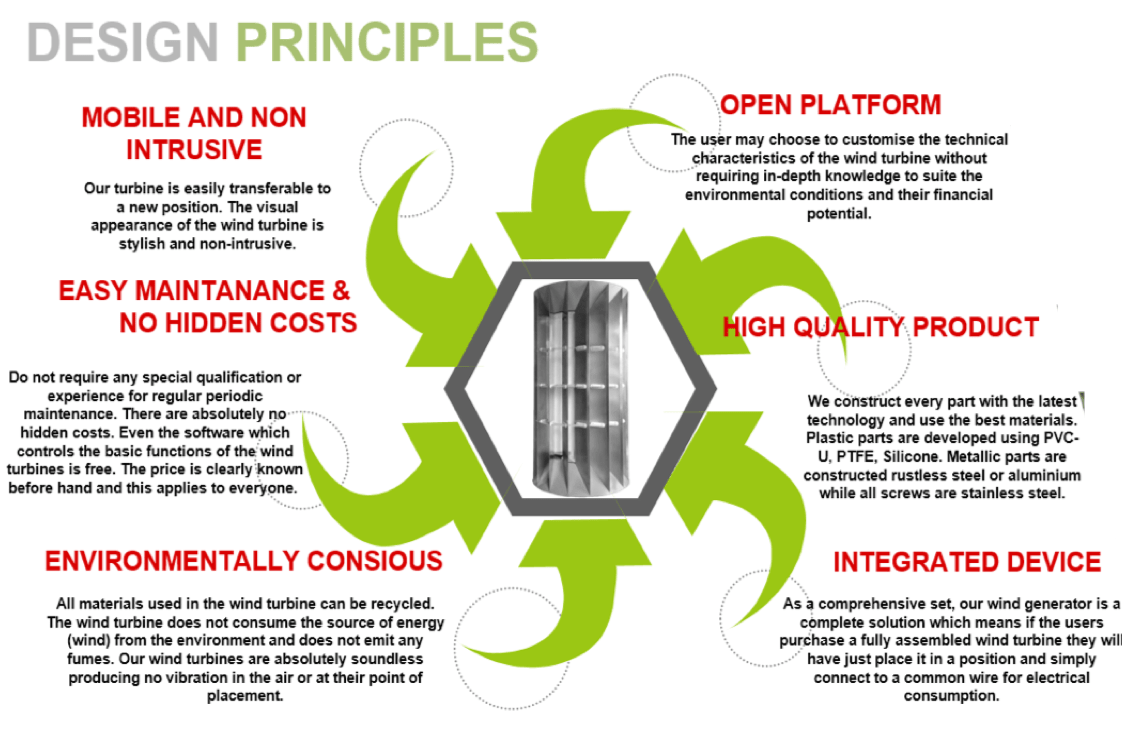 Hassle Free: AEPL's wind generators are designed and constructed in a way that the end customer does not need specialised equipment or expensive spare parts throughout the life of the product. AEPL consciously maintains honest and moral attitude towards the clients. Customer satisfaction is AEPL's primary goal.
Open Platform: The user may choose to customise the technical characteristics of the wind turbine without requiring in-depth knowledge to suite the environmental conditions and their financial potential. AEPL is also open to providing any technical support sought from us.
Free Electrical Energy: Our wind turbines address the need for electrical energy to cover their domestic needs. It provides a solution to those without access (to electrical energy); to those who cannot pay regularly the bills or those who are trapped in a vicious circle of a hand-to-mouth existence. Hence there is no doubt that this product will make your life more comfortable.
High Quality Product: In keeping with the ideology – "I purchase the most expensive material because I am poor" – AEPL designs and constructs wind turbines in order to provide trouble-free performance for many years. We construct every part with the latest technology (CNC router, CNC lathe, CNC laser etc) and use the best materials. Plastic parts are developed using Carbon, PVC-U (6%UV), PTFE, Silicone. Metallic parts are constructed rustless steel or aluminium 6061 Τ4 and 7075 Τ6 while all screws are stainless steel.
Environmentally Conscious: All materials used in the wind turbine can be recycled. The wind turbine does not consume the source of energy (wind) from the environment and does not emit any fumes. Our wind turbines are absolutely soundless producing no vibration in the air or at their point of placement. The visual appearance of the wind turbine is stylish and non-intrusive.
Integrated Device: As a comprehensive set, our wind generator is a complete solution which means if the users purchase a fully assembled wind turbine they will have just place it in a position and simply connect to a common wire for electrical consumption. Our turbine is also just as easily transferable to a new position.
Maintenance: Do not require any special qualification or experience for regular periodic maintenance.
Hidden Costs: There are absolutely no hidden costs. Even the software which controls the basic functions of the wind turbines is free. The price is clearly known before hand and this applies to everyone.
AEPL strives for a better world, liberated from networks and restrictions. We are passionate about the revolution for 'free green energy'. Energy belongs to all of us and nature provides it free.