---
George Karytinos
"For many years, spending large amount of money, I worked hard with many deprivations, having a dream – a little girl, in some forgotten corner of the world, can have the energy she needs, to light the lamp she uses to read her books"

George Karytinos (Founder & Mentor)
Driven by his desire to equip the world to harness energy from renewable sources, as well as to make it accessible to the common man, George Karytinos, Director (Research & Technical) has gone the distance and literally too.
Born in the Greek city of Tripoli, George's quest to develop a nuclear size portable wind turbine which can be installed anywhere by anyone at an affordable price took him to China- the factory to the world, Relocating to China allowed George to source parts for his research and development in a cost effective and efficient manner.
The fruit of his perseverance, long hours and great personal sacrifices has resulted in the world's most efficient wind turbine. It is George's belief that his wind turbine can change the face of its energy requirements, bringing light to the most cut off regions on the planet and smiles to the poorest. And when a man of George's genius believes that, the least we can do is be the wind beneath his dream
---
Mr. Jitendra Agarwal
"Whatever the mind of man can conceive and believe it can achieve".

Jitendra Agarwal
Mr. Jitendra Agarwal is the Managing Director of Agarwal Group of Companies. Established in 1962, The AGARWAL GROUP has ventured into a diverse businesses ranging from defense supplies, Mining, hospitality to construction and has carved a niche for itself in the Indian market. Mr. Agarwal being a keen learner and observer of markets, sensed the pulse of the market and identified an altogether new domain of renewable energy to explore. In 2016 he founded the Anemos Energies Pvt. Ltd, a joint venture with a European company, which has over 15 years of research and development in the wind turbines. Having put together strong wind energy fundamentals, sophisticated technology, precise manufacturing and stringent quality controls to deliver a powerful, nuclear-sized and aggressively-priced wind energy solution. Anemos Energies aims to deliver a world class wind turbine which is so high on technology at a price which is within the reach of the common man. Mr.Agarwal has received the International Achievers Award in the area of renewal energy at the International Festival of Peace held at the Indian Embassy in Dubai.
Mr. Jitendra Agarwal is a member of the Goa Chamber of Commerce and Industries , BNI of Goa, British Business Group(BBG) . He has been a part of the Business delegation from India to Oman – 2018, in the field of Renewable Energy. Besides being a successful Business man he also contributes to social and educational projects of the state. He has been a member of the Governing Council of Shree Damodar College of Commerce and Economics one of the finest Higher Education institutions in the state of Goa. He has been the past President of Agarwal Samaj, Goa and is currently a member of the executive committee.
---
Mrs. Ekta Agarwal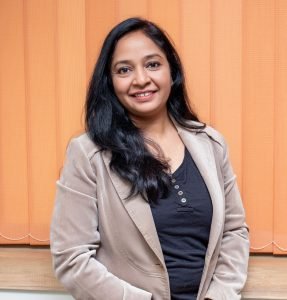 "She believes Happiness is, the experience of living every moment as it comes".

Mrs. Ekta Agarwal
Ekta Agarwal , Director Anemos Energies Pvt. Ltd. holds an Engineering Degree in Computer Science(BE) ,a Master Degree in Computer Application(MCA) and a Masters Degree in Business Administration(MBA). Ms. Agarwal has overall strategic and operational responsibility for the entire portfolio of the Company's offerings. She oversees the key functions and business enablement. She is also a partner in other companies under the Agarwal Group of Companies.